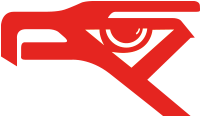 Efficient Intelligence Blog
A Tempest in Southwark
02-February-2017
02-February-2017 17:31
in General
by Admin
On Saturday I journeyed with my son across the river to see the Bard's 'The Tempest' at the Southwark Playhouse. I have seen a version of it before at the Watermill Theatre but it's always good to see the handiwork of different Directors. On this occasion it was Amy Draper, Best Director, off West End 2016. There is history not only in the play but between my son and Amy in that she led his Drama classes at Marlborough Summer School for 3 years until last year when she must have been very busy indeed after receiving the great accolade.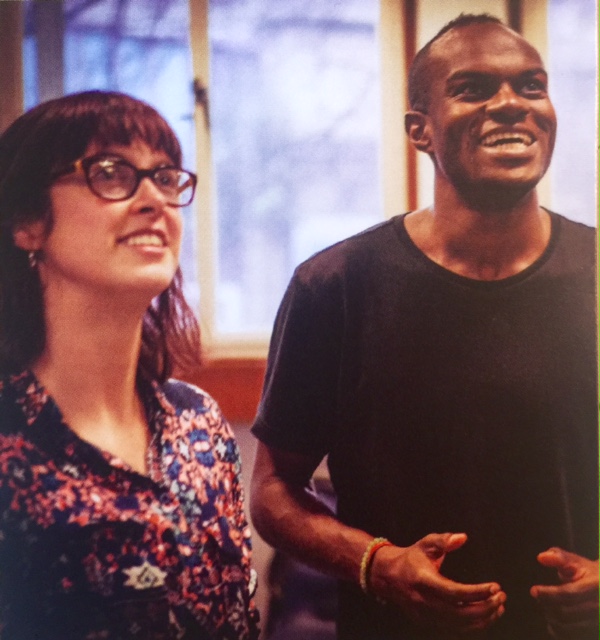 Amy Draper in rehearsals
The Tempest is a magical play where mystery, romance and comedy intertwine to tell a story essentially of an overthrown Duke and his desire for justice. Prospero, the intellectual Duke of Milan has his kingdom taken from him by his ambitious younger brother. With the help of an old courtier, Gonzalo, he manages to escape by being cast adrift at sea with his baby daughter, Miranda and a library of books on magic.
They are washed up on some distant island where the sole inhabitant is the deformed and savage Caliban whom Prospero enslaves to do his every bidding. On the Island there are also spirits, one of whom is Ariel, who was imprisoned in a tree trunk by Caliban's mother, the witch Sycorax, who has since died. Prospero uses his magical powers to rescue Ariel but makes the spirit beholden to him. Thus Prospero bids his time waiting for the opportunity to avenge himself.
Then one day Prospero conjures up a storm that shipwrecks Antonio while accompanying Alonso the King of Milan on their return from Alonso daughter's wedding in Tunis. Also on board were the King's brother Sebastian, his son Ferdinand, court jester Trinculo and boisterous butler Stephano. As Prospero and Miranda watch the unfolding of the shipwreck from the shores of the island, Prospero reveals to Miranda for the first time how they came to be there 12 years before.
The ship's passengers safely cast up on the island with Ferdinand being washed up on another part thereby instilling fear in Alonso of his son's death. Ferdinand soon encounters Miranda and they fall in love at first sight. Prospero puts Ferdinand to manual labour and uses his magical powers to control his every movement. Ariel then pesters Prospero for this freedom which he relents to only once Ariel has completed some tasks for him regarding the newcomers.
As Ariel leads the main party to Prospero, Antonio and Sebastian plan to kill Alonso so Sebastian can be King. Meanwhile, Trinculo and Stephano who are also wandering about the island, are recruited by Caliban to help him overthrow Prospero. They hatch a plan and proceed to get drunk before heading in pursuit of Prospero. Ariel divulges both plans to Prospero. Prospero releases Ferdinand from indenture and gives his blessing for the young couple to marry.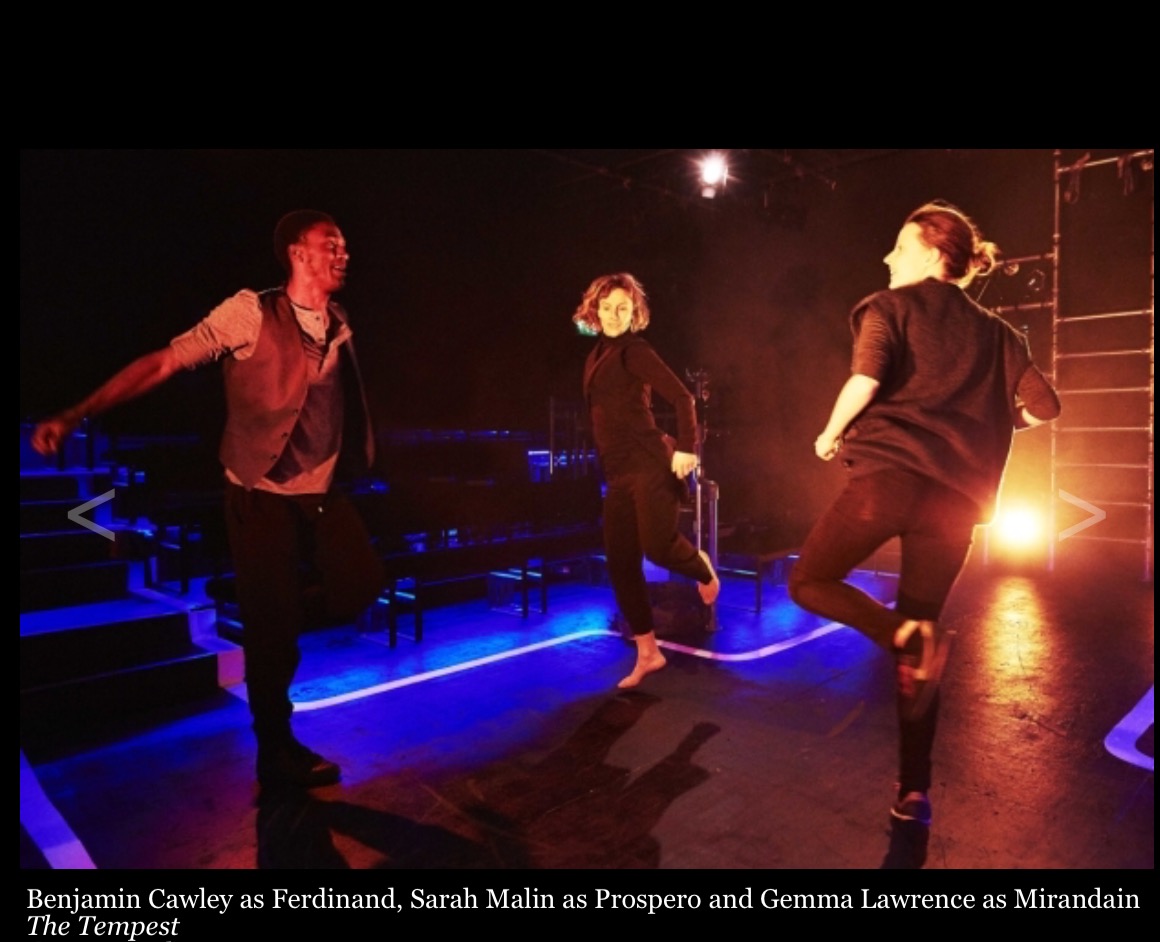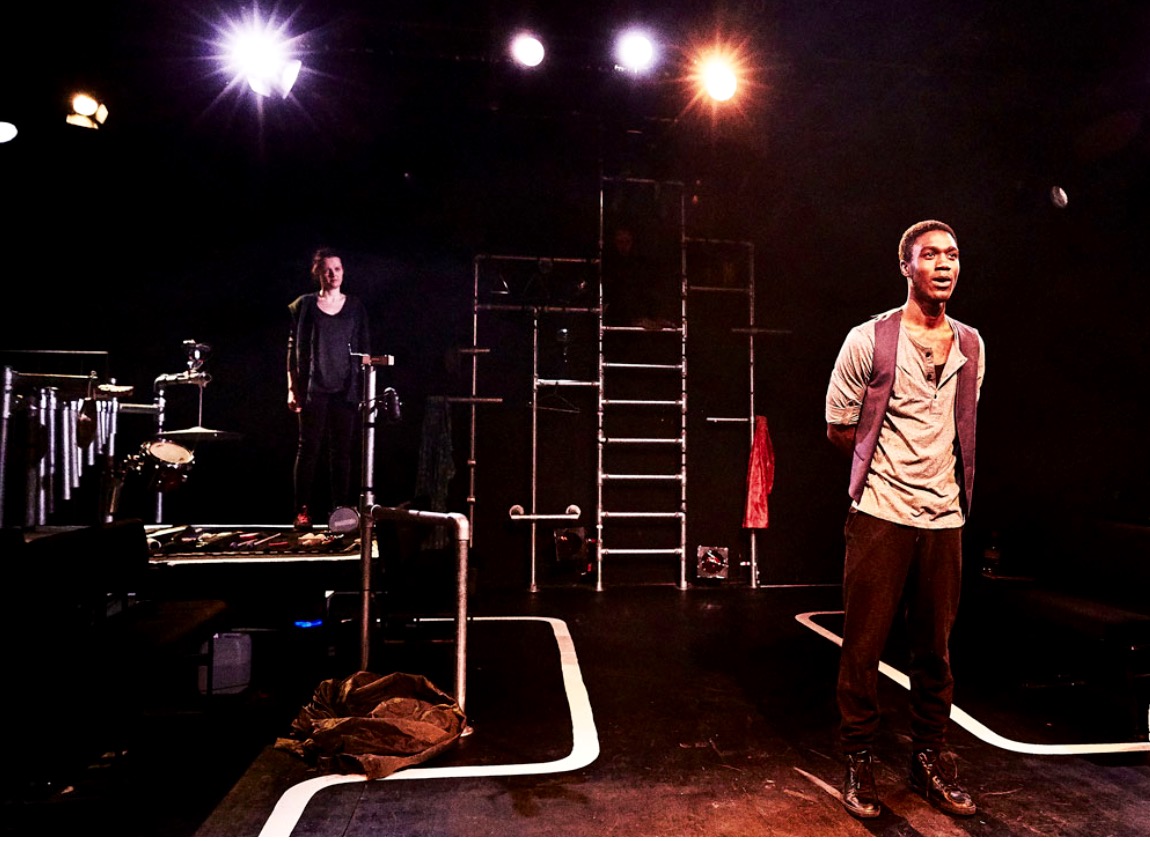 As the 3 conspirators reach Prospero they are distracted by some brightly coloured clothing that have been hung out for this purpose. Then some spirits in the form of dogs give chase and they run away. When Ariel brings the main party before Prospero, he renounces his magic and reveals himself, forgives Antonio and prepares to return to Milan to resume his dukedom. Miranda and Ferdinand are betrothed. Some sailors turn up to announce that the ship is not a wreck after all but safely anchored off the island. Ariel is set free. Caliban and the drunken courtiers are also forgiven. The play ends with final celebration of the reunion.
In Amy's version 5 actors wonderfully play the role of 10 characters and are able to make the transition between them seamlessly. The entire auditorium is used so the audience are active in their spectatorship looking up, sideways or down from their seats and not simply passively looking at a raised stage. The climbing frames on the walls were used to conjure up magical powers and to ignite the audience's imagination. The costume and stage design are rather grey in tone so as not to set the play in a specific location or period so the audience can themselves envisage an imaginative flexible setting.

My son was able to follow the plot particularly after we went through a synopsis post performance. I on the other hand will need to see the play again in order to enjoy the story fully. So I shall look out for yet another version of Shakespeare's 'The Tempest'!
Categories